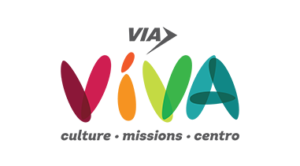 Several VIA bus routes, including the new VIVA routes, offer convenient service to this year's Día de los Muertos Celebration, Oct. 29-30, at historic La Villita.
The two-day event is free and open to the public, bringing together traditional art and culture with live music and entertainment to celebrate the Day of the Dead. Festivities include live music at Arneson River Theater, original artwork, a dance, drum and puppet procession, live poetry, and the largest open altar exhibition in San Antonio.
Festival Hours
Saturday, Oct. 29: 10 a.m. to 11 p.m.
Sunday, Oct. 30: Noon to 10 p.m.
Location
La Villita Historic Arts Village, 418 Villita St., is located at the corner of South Alamo and Nueva Streets in downtown San Antonio.
Plan Your Trip
To plan your VIA trip to Día de los Muertos at La Villita, use the online trip planner at VIAinfo.net or use a third-party mobile app like Google Maps, Moovit, or TripGo.
Ride any VIA bus route that serves the downtown area, including VIVA Centro (301) and VIVA culture (11).
Bus Schedules
Bus schedules are listed at VIAinfo.net and available at VIA Transit Centers.
Cost: The best deal is a $2.75 Day Pass for unlimited rides, available on the bus. Single fares are $1.30 per ride.
For more information on how to ride VIA to Día De Los Muertos, call VIA Customer Service at (210)-362-2020.