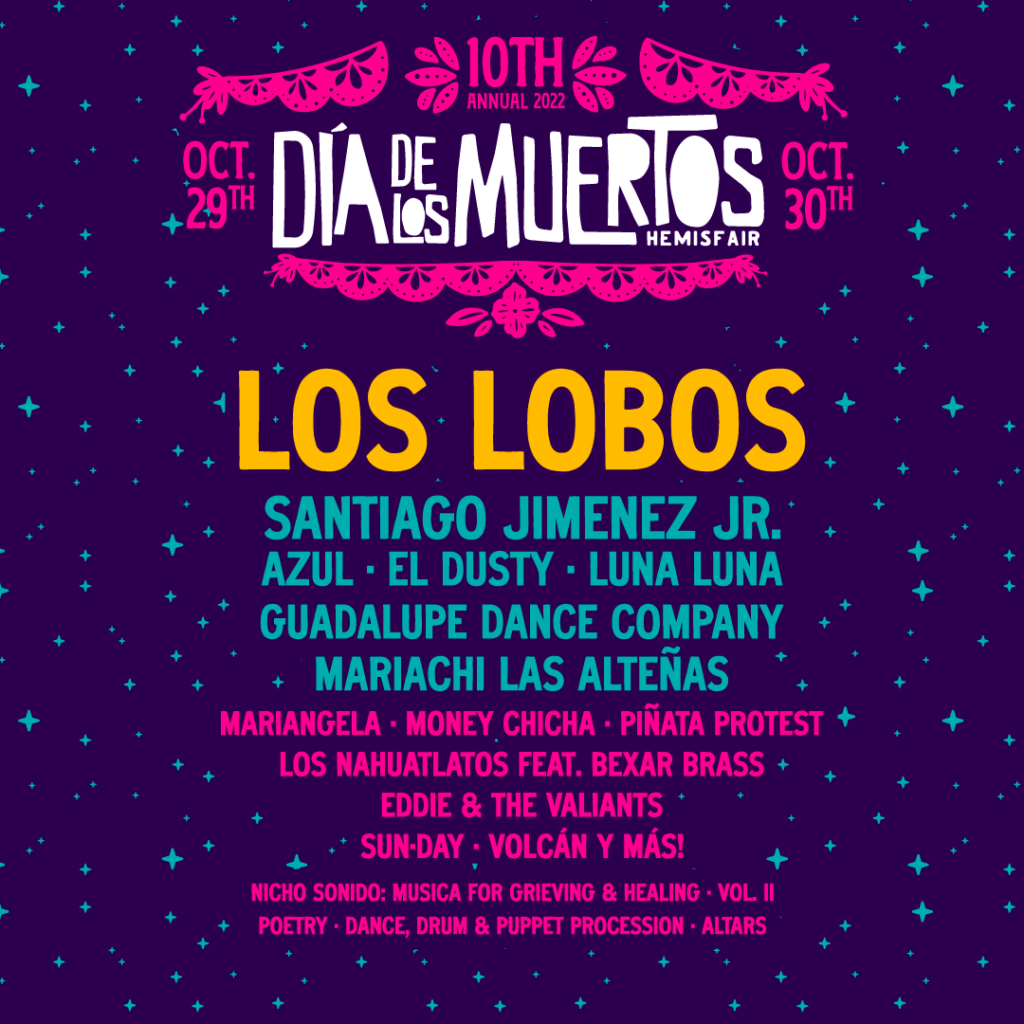 Over 50 performers across 5 stages including:
Los Lobos
Azul, Eddie & the Valiants, El Dusty, Guadalupe Dance Company, Los Nahuatlatos feat. Bexar Brass, Luna Luna, Mariachi las Alteñas, Mariangela, Money Chicha, Piñata Protest, Santiago Jimenez Jr., Sun•Day, Volcán
Black Bird Sing, Brizzo Torres, Ghost Tracks, Grupo Frackaso, Juan & Armando Tejeda, Mariachi Las Valquirias, Mariachi Nuevo Jalisco, Nuevo, San Antonio Parks & Rec Dance Program, Rat King Cole, Tallercito de Son, Tarrasco Tropical y los San Quilmeros, Zombie Bazaar
Nicho Sonido: Música for Grieving & Healing, Vol. II
DJ Despeinada ft., DJ Tear Drop, DJ Cha Cha, Sunnyboy, DJ Mexican Blackbird, DJ XOEMIX, DJ Sucia Q
Poetry by
Amalia Ortiz, Anthony the Poet, Eddie Vega, Tomas Castillo-Roque, Victoria Fennell
Dance, Drum & Puppet Procession featuring
Las Monas, Danza Azteca Kalpulli Ayolopaktzin, Renegade Composer Nathan Felix, featuring La Murga de Austin, Troupé Group Hermes, Los Gardea, Inner City Development, Guadalupe Dance Company, Tallercito de Son, Rebecca Medina Tribute, Mariachi Azteca de America
Schedule coming soon!